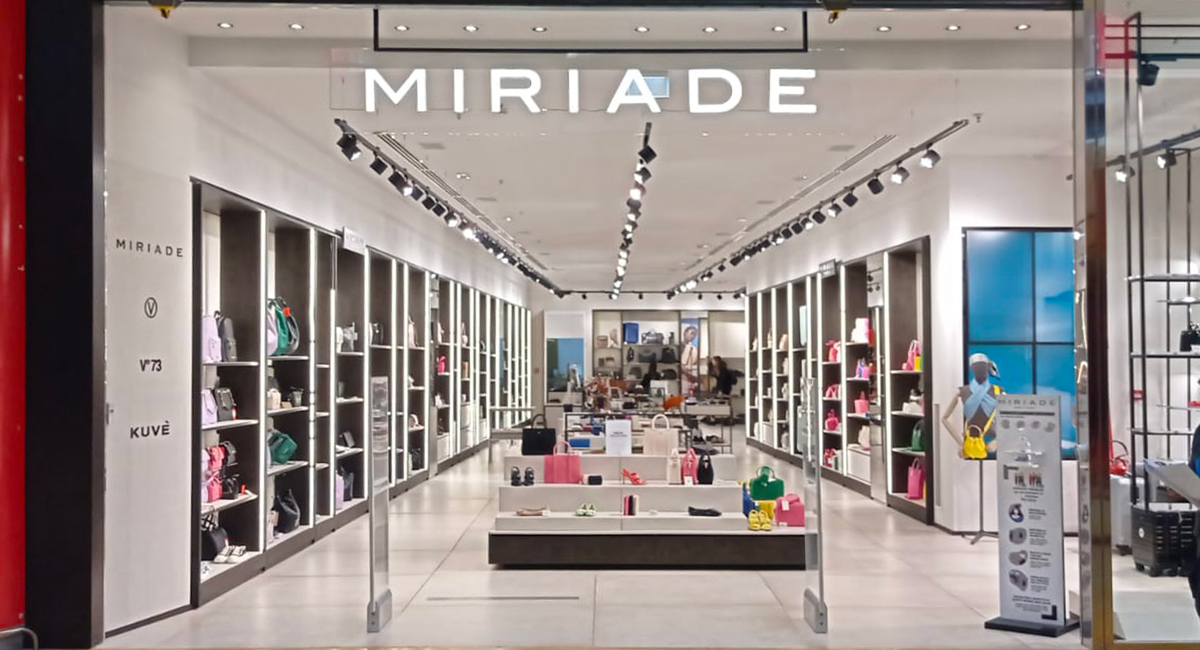 MIRIADE Valmontone
V.pascolaro C/o Valmontone Outlet Un.48, Valmontone - 00038
+390695994025
Friday:
Opening hours
Monday

Tuesday

Wednesday

Thursday

Friday

Saturday

Sunday
Available Services
Shopping Assistant
Satispay
Scalapay
Gift Card
The Store
The Miriade brand was born in 1997 to meet the needs of a heterogeneous clientele with lines of bags and accessories with a high fashion content and a good quality-price ratio. In a short time it achieved a rapid and international expansion of the brands represented (Miriade, Valentino and Kuvè), whose exponential growth in sales supported the opening of single-brand stores and dedicated corners, in Italy and abroad. To date, the Miriade Retail network can count on over 70 franchised and DOS single-brand stores. Miriade also exports its brands to over 80 countries worldwide, and its products are present in more than 2,000 selected points of sale. The company has always invested in the history, spirit and specific values of each brand, furthermore, through the combined action of creativity, research, materials and structures, it offers glamorous but always highly accessible fashion accessories.
Reviews
Negozio ben fornito,commessa super disponibile,gentilissima,acquistato verso le ore 15 di domenica 13 agosto.

Negozio fornito e gestito da persone gentili e qualificate

Vasta gamma di borse e accessori e qualche scarpa

Ottime occasioni..

Favoloso! la commessa meravigliosa.

Locale ampio, ben assortito, personale molto gentile e disponibile

Having good variety of leather products for ladies

Ho trovato dei saldi incredibili sulle calzature e delle occasioni sulle borse di tendenza

Negozio ben fornito. L'unica pecca che durante i saldi le borse sono messe tutte ammucchiate da non riuscire a vederle bene. Bisogna stare attenti perché hanno difetti. Presa a mia figlia una borsetta rosa che non si chiude,un'altra macchiata. È vero mea culpa che dovevo guardare ma non pensavo che mettessero in vendita anche le difettato o perlomeno bisognerebbe dedicare uno spazio con su scritto difettato. Il personale gentile e diaponobile

Il negozio dove trovi bellissime borse Rocco Barocco, Valentino, Yamamay, miriade,a prezzi fantastici.ogni volta che regalo una borsa rimangono contentissime...lo consiglio vivamente si i trovano anche sciarpe,scarpe.5 ⭐⭐⭐⭐⭐il massimo

Ampia scelta Buon rapporto qualità prezzo

Ottimi prezzi e cortesia del personale

Molta scelta di borse e diversi accessori le commesse molto gentili e disponibili nella aiutare i clienti

Il sogno di ogni donna scarpe e borse a prezzi imbattibili

Ottimo

Vasta scelta

Personale sempre cortese e disponibile... Con vasta scelta di prodotti

Molto fornito

מושלם!!!!!

Le borse sono veramente belle e applicano uno sconto outlet niente male. Le scarpe anche, ma più per le borse merita assolutamente fare una visita

Ottime e vasta scelta di prodotti di pelletteria. Grandi e piccole marche.
Reviews are not verified. They are imported from the Google Business Profile. You can read all the reviews here